The French university system
Higher education in France has adopted the Licence-Master-Doctorat (LMD – Degree-Masters-Doctorate) system. Most degrees allow students to obtain ECTS (European Credits Transfer System) credits recognised in many countries of the European Union and the world.
The organisation of university studies into three cycles is common to most European Union countries. The LMD system made it possible to standardise the cycles and organise the recognition of qualifications between countries. It facilitates student mobility in Europe as well as in the rest of the world.
Obtaining LMD degrees is linked to the number of semesters of study completed since entering higher education. Each semester allows for the validation of 30 ECTS credits that can be accumulated and transferred from one country to another.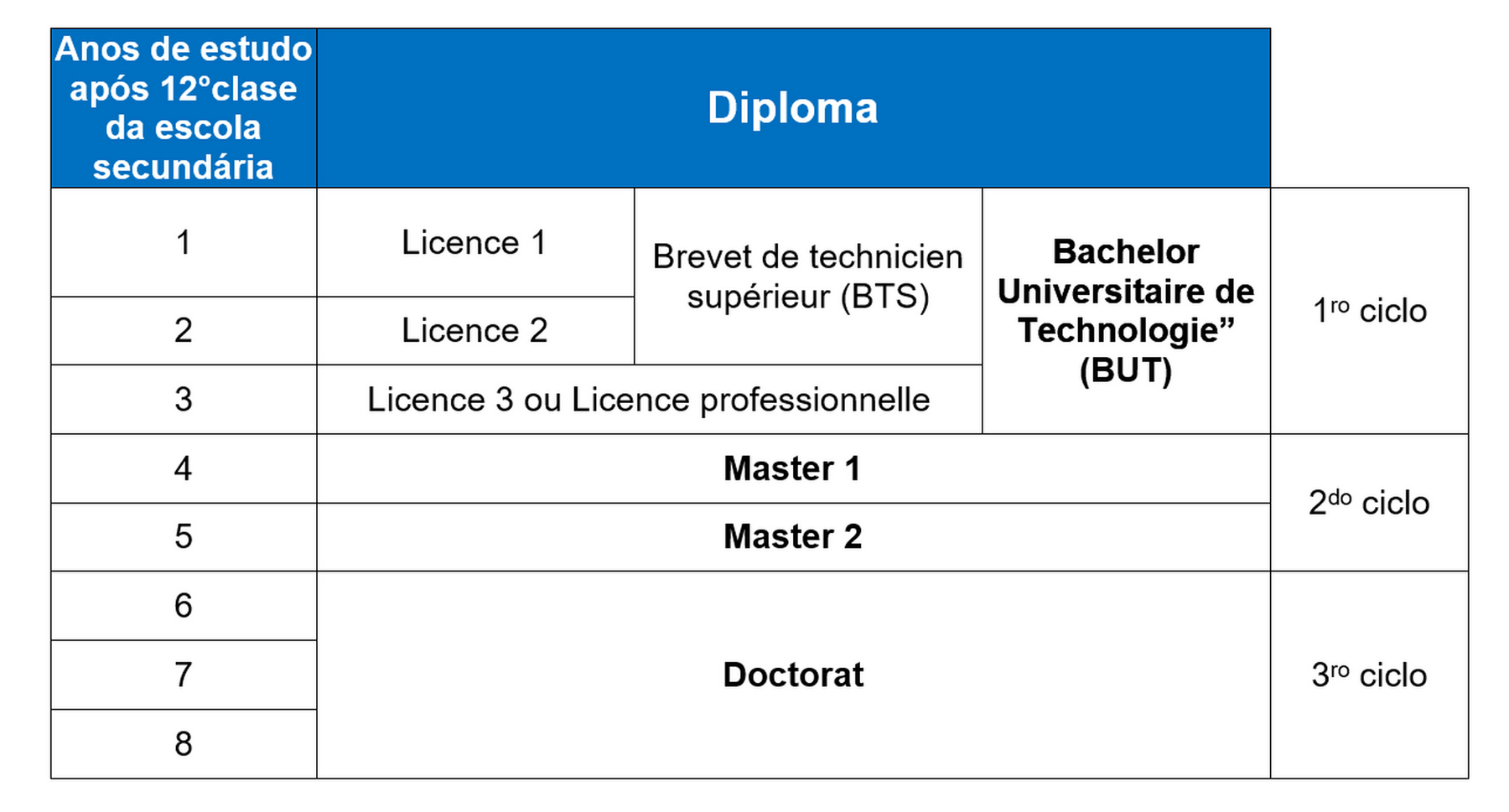 Find a university education
Campus France Mozambique, the Embassy of France and their partners have no influence on the results of university registration processes.
Each university institution defines its own admission criteria, depending on the student's profile and background, their study project and the requirements of the desired training. Only the host institution is authorised to accept or reject an applicant.
Therefore, it is strongly recommended that applicants conduct in-depth research on the field of ​​studies, courses and desired universities so that they can present a coherent, solid and well-structured project that allows them to be selected.
Below we present the links to access the information catalogues for each academic level, where information regarding the fields of study, different courses and the respective institutions are available:


Bachelor Universitaire de Technologie studies
The Bachelor Universitaire de Technologie (BUT) is a recognised French higher-level qualification, which is taught at Higher Institutes of Technology. With a duration of 3 years, the course offers individual support and an academic environment with a human dimension, based on skills and conducive to working in project mode. This national programme allows for professionalisation through the acquisition of skills recognised and sought after in socio-professional circles.
To find out more about BUTs, please go to the letudiant.fr website: https://www.letudiant.fr/etude...
This is how you can find the universities:
Applicants shortlisted for a Bachelor Universitaire de Technologie scholarship will be referred to courses and a University Institute of Technology in France, depending on their profile.
It is strongly recommended that you find out about the programmes in order to guide your motivation letter and present your professional goals.
Check the catalogue https://cataloguelm.campusfrance.org/master/. The interface is available in French and English, you can filter your searches by keywords, fields of study and geographic areas.
Each university and training course in France has a specific timetable and recruitment criteria, check the websites or contact the universities. Confirmation of registration in a higher education institution will be mandatory for confirmation of the granting of the Scholarship.
Therefore, we strongly recommend that you contact universities in France and take the necessary steps now, before the shortlisting process.



Doctorates consist of studying through research in a research laboratory and are organised by one of the 270 Doctorate schools in France. This work culminates with the defence of a thesis before a jury. Doctorates are prepared at all universities, as well as most major engineering and management schools, which are usually associated with a university.
Find out more about how Doctorates work in France: https://www.campusfrance.org/fr/comment-fonctionne-doctorat-France
Discover the Doctorate Schools in France : https://doctorat.campusfrance....
Courses taught in English at all levels
Check the catalogue http://taughtie.campusfrance.org/tiesearch/. You can filter your searches by degree type and field of study. It collects around 1,700 courses taught in English (in whole or in part) that you can attend at a French higher education institution.