LANGUAGE LEVELS REQUIRED BY UNIVERSITIES
The French language is a language spoken on the 5 continents of the globe and the third most used language in the business world. There are in total more than 300 million speakers. It is the main language of instruction in higher education institutions in France, but there are more than 1600 courses taught 100% in English.
To attend the first year of the Bachelor's or Master's degree, French universities require applicants to be able to speak and have certificates of proficiency in French language (DELF/DALF) or English (IELTS/TOEFL) from level B2, and for the BUT (Bachelor Universitaire de Technologie – University Bachelor of Technology, which is taught in French only), French classes are provided at the expense of the sponsors.
It should be noted that some French higher education institutions may require a higher level, C1 or C2, for specific Master's courses as well as for the Doctorate.

LANGUAGE LEVELS AND PROFICIENCY ACQUIRED
To obtain the aforementioned levels, students must take classes at language training centres that have their courses aligned with the CECR.
CECR is the acronym for Cadre Européen Commun de Référence pour les langues – the Common European Framework of Reference for Languages. The CECR defines the proficiency levels, which are used to measure the student's progress at each stage of learning and throughout the duration of their studies, as can be seen below: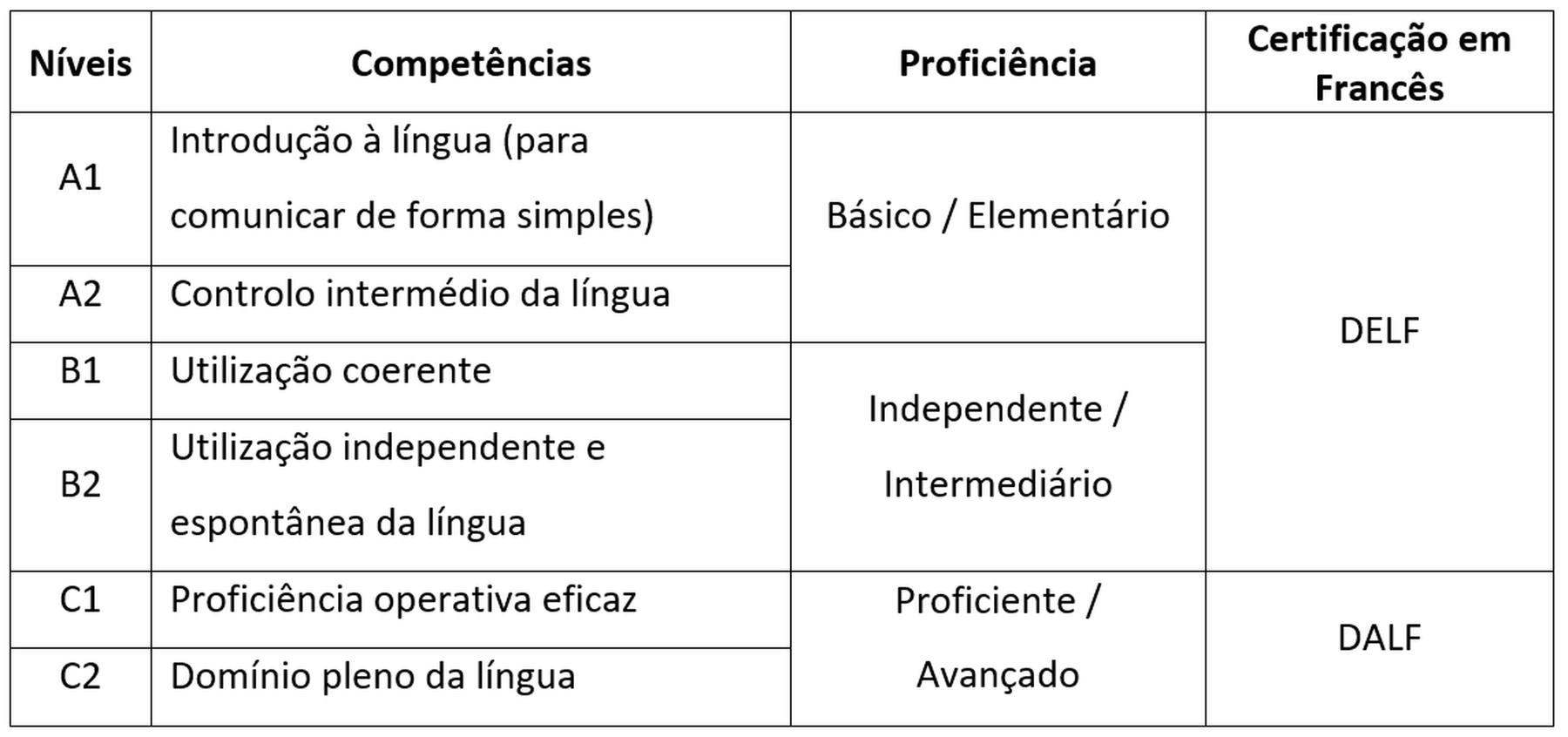 INTERNATIONAL FRENCH-LANGUAGE PROFICIENCY CERTIFICATION - DELF/DALF
The DELF – Diplôme d'Études en Langue Française [Diploma in French Language Studies] and DALF – Diplôme Approfondi en Langue Française [Diploma in Advanced French Language] certificates are the official assessment tests for the level of fluency in French. They are official certificates valid for life and recognised nationally and internationally.
The CCFM and the IDL provide preparation sessions for the DELF/DALF exams and have diversified teaching materials.
DELF/DALF sessions are held twice a year, in May and November;
Applications are made at the CCFM or IDL.
INTERNATIONAL ENGLISH-LANGUAGE PROFICIENCY CERTIFICATION - IELTS/TOEFL
TOEFL and IELTS are thematically the same, covering four language skill areas: reading, writing, listening and speaking. But TOEFL content covers all academic English, while IELTS is divided between academic, professional and everyday English.
However, IELTS is the most popular English language test in the world. French universities that teach courses in English require applicants to have an IELTS certification with a minimum score of 6.0 or 6.5, or a TOEFL score of between 79-93, the equivalent of the B2 level according to the CECR.
Prepare for and write the IELTS exam at the British Council Mozambique and other accredited testing centres.
NB: English-language proficiency and certification in English does not exempt applicants from the need to communicate in French, as administrative matters and daily interaction, at the academy and beyond, take place in French. Remember that mastering a local language always makes cultural and social integration easier, which allows us to have a complete experience.


NB: O domínio e certificação em língua inglesa não isenta os candidatos da necessidade de comunicar em francês, visto que as questões administrativas e a interação diária, na academia e fora dela, acontecem em francês. Lembrando que o domínio de uma língua local facilita sempre a inserção cultural e social, o que nos permite ter uma experiencia completa.